You're not writing a book…
You're writing your book
You're looking for help with this project because
Your book isn't just another line item on your publication track record
On top of being tied to your chances of tenure, it's a way for you to:
So much of what happens in your career is out of your control,
But once you've written your book, no one can take it away from you.
Thing is, first you need to start…
Let's get one thing straight: The problem isn't you
Like your manuscript (most likely), the current version of academia (you know, the one that's rooted in white supremacist, patriarchal values…) needs an overhaul.
On top of a punishing schedule – including teaching, research, service and your desire to spend quality time with your loved ones… Busy, tenure-track academics like you are dealing with the same anxieties, fears and insecurities as everyone else.
You're struggling to write your book on your own within a system that's rigged to take incredibly bright, motivated, ambitious people and make you feel stupid, overstretched and unprepared
Tell me if this sounds familiar:
You're blaming yourself for not knowing how to approach this project (even though we both know nobody ever taught you this)

You feel like an imposter because you wish you had some help, but asking for support is like blood in the water: a sure sign to your colleagues that you don't have what it takes

You're sacrificing your relationships with the people closest to you (not to mention your own self-care) because you think (and the academy wants you to believe) you're supposed to be working around the clock.
I'm here to help you see that you are not the problem. You are the solution.
It's your own resourcefulness that's going to help you accomplish your goals.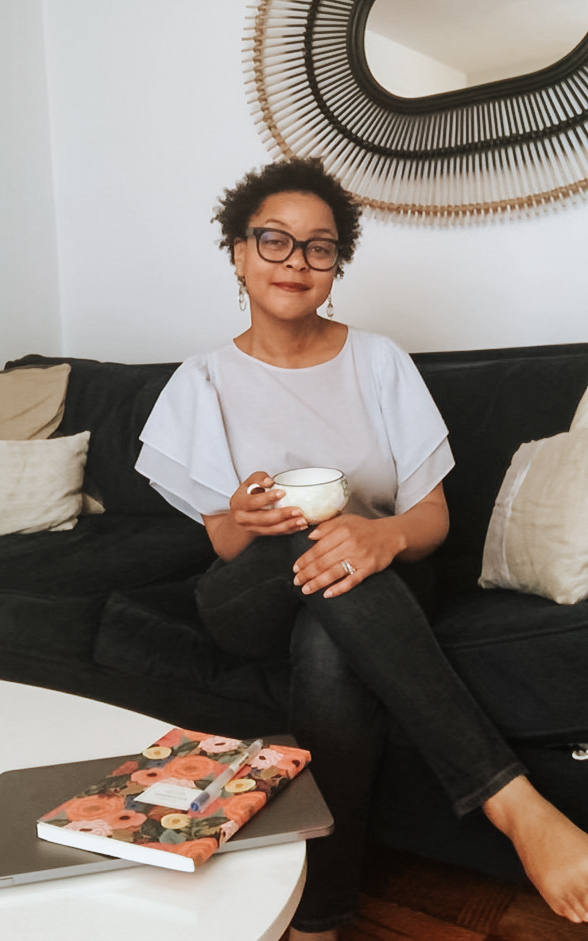 I've been where you are and I know: It doesn't feel good
Hi, I'm Jane Jones
I'm here to help you reboot your book project and restore your faith in your abilities as an academic writer
After completing a PhD in sociology and landing a tenure-track job my first year on the market (right after the recession of 2008), I struggled so much with balancing all my work, even though I worked my butt off.
During my first year as an assistant professor, I was so stressed out, I developed a lactose intolerance. It wasn't until I joined a writing group that I began to feel supported and in better control of my work.
I left my "golden ticket" tenure-track job in academia when I realized I hated more about my day-to-day life there than I loved.
In my search for a career that would sate my appetite for the craft of writing, the exchange of ideas, and the intellectual thrill of research, I landed on developmental editing.
Today, as an academic book coach who helps minoritized scholars get the feedback & support they need to confidently write their books, I strive to be the coach I wish I'd had when I was on the tenure track.
Since I founded Up In Consulting in 2014, I've successfully helped dozens of academic authors like you create and execute a writing plan that allows you to write your book, confidently.
"When you work with Jane, you feel supported and understood because she takes the time to understand the totality of the work you are juggling and then checks in with you consistently over an extended period of time.
I looked forward to my interactions with Jane because I knew I could count on her to both boost my confidence and give me an honest opinion.
If you feel like you don't have the time or the energy to get yourself out of a rut or push yourself to the next level, allow Jane to take the lead! You'll be glad you did.
— Assistant Professor
I started my business to help academic women like you write your book and make your contribution without hating your day-to-day
Here's a sneak peek at what joining me inside Elevate could mean for you in the next 6 months:
The changes you make as a result of this program can have a far wider-reaching impact on your life than you might expect:
Jane has been an invaluable resource and guiding hand to me.

Whether in my book or my journal articles, my writing has benefited tremendously from her discerning eye. She has provided insight to me at all stages of the writing process: from the initial conceptual, organizational work to final touch-up, copy editing and everything in between.
To Jane, I owe not only my prose's coherence, but the quality of how my thinking is presented to the larger field. I can't sing her praises enough and count myself incredibly fortunate that she's read every word I've written.
— Assistant Professor, University of New Mexico
Working with Jane was wonderful.
Not only did she help me feel more positive about my research, based on our work together, I was able to disentangle the stress of working in my institution/department from the aspects of my job I really enjoy.
"It's been a wonderful learning experience that I'm grateful to have had at the beginning of my career. I hope to be able to continue working with Jane into the future.
— Assistant Professor
This I solemnly swear:
I'll never tell you, "You aren't working hard enough"
In fact, I'll probably tell you to take more breaks.
I'm committed to dismantling academia's toxic obsession with productivity and giving minoritized academic authors the tools and support you need to believe you are enough…
You've got this.
Here's how I can help:
If you're a minoritized scholar who's struggling to write your first book and you know you need structure and accountability to help you get the job done…
Elevate was designed to address the urgent need for tenure-track academics like you to get early and ongoing feedback on your book and learn the practical & widely applicable writing strategies you need…
…within a supportive community where we can address the practical, emotional and structural challenges you face at your institution.
Doors to this unique group coaching & editing program are currently open! We are accepting applicants for the June 2021 cohort. You can click the button below to…
Elevate has helped me call out the toxic obsession with productivity in academia

I came across Elevate at a point when I was rapidly losing faith that I was ever going to complete my long-overdue book project. From the word go, I found the community aspect to be a crucial component of the program, helping me feel supported and understood by a highly diverse (and often hilarious) group of colleagues all committed to a similar goal.
The mix of general coaching on writing as a professional practice and focused feedback on my own writing turned out to be exactly what I needed to re-boot my book project and restore faith in my own abilities as an academic writer.
The program's clear-cut approach to the practicalities of writing – including planning, realistic goal-setting, and managing feedback – has helped me form more productive habits and set more manageable goals for my writing.
Perhaps more than anything, Elevate has helped me call out the toxic obsession with productivity in academia that sets so many of us up to fail because we measure ourselves against unrealistic standards. I would recommend it to any academic who finds that they want to feel better about writing, not just get better at it.
— Assistant Professor, Visual Culture
I'm serious about helping you succeed, but I'm not serious all the time…
When I'm not helping academic authors re-energize their writing projects, you'll find me: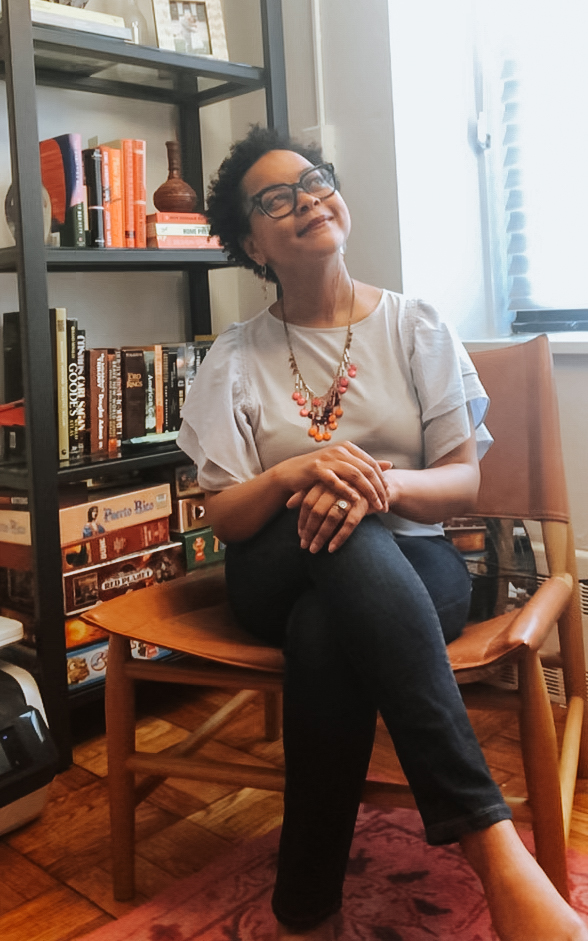 Sipping a craft bourbon, on the rocks, while I make homemade pasta with my husband, Abe
Catering to the whims of Catniss Flufferdeen, my feline office companion who's always trying to use my microphone in the middle of a coaching call
Watching American football with some tortilla chips and salsa– my favorite team is the long-suffering New York Giants OR
Devouring cooking shows like Kitchen Nightmares, Masterchef, and The Great British Bake Off–because they're fun and remind me a lot of grad school,
In the middle of an impromptu dance party to the tunes of Lizzo and Queen Bey
(Pre-COVID) sitting in the corner booth at Lucille's, my neighborhood cafe, drinking an oat milk latte with a raspberry donut and a good book.
When it comes to my coaching style,
I've been told I'm a mix between your drill sergeant and your big sister
If you join us inside Elevate, I'll make sure you've got the structure, support, and community you need to write your academic book without giving up everything else.
Doors to Elevate are open now. Click the button below to…